NEWS
HOT NEW VINYL!
​ LIMITED EDITION @ LEESTA VALL SOUND RECORDINGS SATURDAY, JULY 9, 2022
NEXT SHOW: SATURDAY MARCH 19th, 2022-- 7:15PM @ THE MERCURY LOUNGE!!!
OUR 1st ZOOM rock Festival! Sign of the times-- Friday, June 19th , 2020
REservations here: www.gucciballerina.com/rsvp

WOMEN WHO ROCK FOR WOMEN'S RIGHTS!
Celebrate the 1st night of summer 2019 with a free outdoor show!!
HAPPY SPRING DARLINGS!!! HOT SHOW COMING RIGHT UP... See you THERE:

What an EPIC night to remember! Thank you to all the darlings that came out! xoxoxo
first saturday night of 2019- make it count - best year ever - Save the date darlings!
KICK OFF Fashion WeeK@ Shattered, in the Map room, The Bowery Electric Thursday, February 8th- 9:30pm (2ND/BOWERY)
Tues, NOV 28th! Carousel Premiere Party@Bar 2A 6:30-7:30, Performance @Berlin 8pm
MONDO MUSIC FEST COMING UP!! the SHATTERED DANCE PARTY-
THURSDAY OCT 5th, 7pm, with Them fangs at BOwery Electric
THANK YOU "MAKE MUSIC NY"! Howling In Christopher st Park, West Village, NYC
JUNE 21, 2017---PHOTOGrapher: @PHOTOROB

Two Chances Coming up To Kickoff Summer Adventures..
PhilAdelphia & Rockwood NYC!
Heading to PHIladelphia---Kung Fu NeckTie--Punk rock lives--DancE saves lives
Bowery was Electric--w/ Kristeen young, heroic enthusiasts, & her Majesty!
COMING UP!
​THE BOWERY ELECTRIC 4/12/17 @10:30pm
w/the LEGENDARY KRISTEEN YOUNG
Fell in Love with Berlin--March 20,2017
DECEMBER 13th, 2016--FEELING THE HOLIDAY SPIRIT
MISTLETOE & SPECIAL MUSICAL GUESTS
PUNK ROCK CHRISTMAS CAROLS--Including The Ramones "MERRY CHRISTMAS I DON"T WANT TO FIGHT TONIGHT"
OCTOBER 20, 2016--FEATURE on CALIFORNIA's CONCERT CRAP
"THE GOODNIGHT DARLINGS TALK NEW YORK VS. LA, MUSIC VIDEOS, & MORE"
​THANK YOU COREY KLEINSASSER
The Goodnight Darlings - Kat and Wilson interview
September 22, 2016--LOVE YOU LA LA LAND----Thank you for Having us at The Satellite!
August 16th, 2016--STILETTOS & FAIRYTALES
Magical night PLAYING PIANOS---Madonna's BdAY, FresH Bradley Theodore Graffiti and other Miracles--
Special Photo CRED--TRUDY SCHLACHTER
JULY 5th, 2016--PLAYED A LIVE SET ON THE BELOVED WFMU---W/ AWESOME DJ IRENE TRUDEL!!
APRIL 28TH 2016
---
Thursday, November 19th, 8pm--SO EXCITED FOR OUR
'ALL I EVER WANTED' CD RELEASE PARTY AT BOWERY ELECTRIC NYC
COME PARTY WITH US, IT'S GOING TO BE AN AWESOME NIGHT!
Surprises and Special guest performance By EMMY AWARD WINNING MC JABEE
not to be missed!!!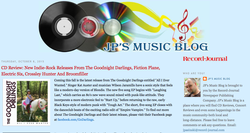 ---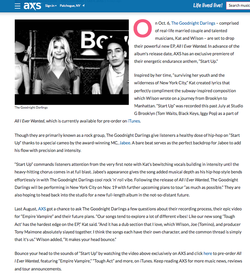 ---

---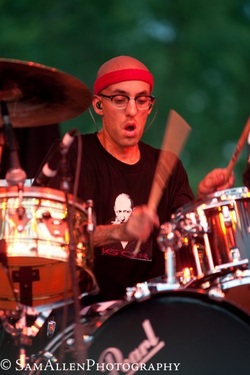 ---

---
FILMING IN ORLANDO, FLORIDA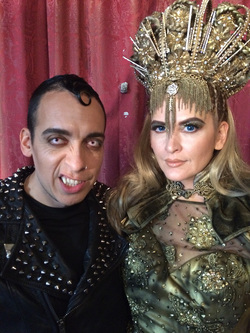 ---
---